Want to Tweet this newsletter? Click to share with your Twitter community!

"With arms wide open
under the sunlight
welcome to this place
I'll show you everything
With arms wide open"

~ lyrics from With Arms Wide Open by Creed

The Tao of Now: Vision Quest
This is the year of perfect sight (2020). The question is, do we have the vision?

Our interior psyche is "a thin membrane we call identity connected with the whole large, pulsing cultural and even biological conversation. It's micro to macro and back again in this DNA spiral. Nothing is strictly personal: no joy, no suffering, no illness - it all belongs to the collective in our connectedness," Caroline Casey reminds. "We've each been assigned a customized underworld, and our task is to metaphorically cooperate in some way." This is what brings us through to a new level.

Just after Christmas, an eclipse series began that will culminate with a full moon lunar eclipse featuring Saturn (form) and Pluto (transformation) together on January 12, 2020. This creative conjunction is a massive game changer, calling on us to surrender the structure of who and how we've been, in order to fully express the power of the grand design beyond our small selves.

In a nutshell: we can use our underworld assignment to initiate a new, desirable story that reflects our evolving world.

To take full advantage of this Light shift, Patricia Cota-Robles offers an elemental recalibration invocation (begins at 5:26).


Holding the Both/And As We Segue from Linear to Liminal

On the Solstice, Aluna Joy shared a preview of our 2020 slingshot: "It looks like our relationship with time and perspective will change dramatically. It will feel comfortable and scary, understandable and confusing, and like home but very foreign. We will feel safe with our feet planted in ancient wisdom, but still feel totally not ready for the future.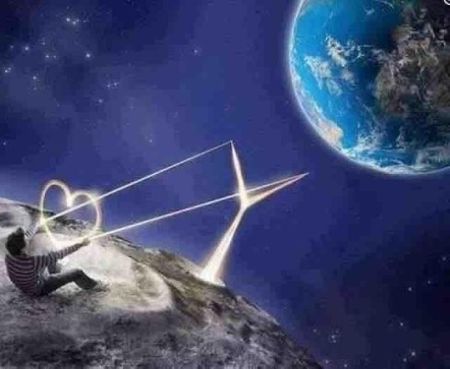 "The energy is relentless throughout the collective consciousness, and there is no way to meditate your way out of issues you want to avoid. We will be readjusting and reassessing continually with many reality check ups, asking 'Who am I now?' just to keep up."

Gillian Macbeth Louthan offers, "Events never before recorded on Earth transpire in this new dimensional dialogue. The future opens the door wide and beckons us in for a tea party. The important thing to remember in this adventure is to not lose yourself or channel your Mad Hatter self. Your authentic Light, your true power, displays its magic around you in technical advancements or ancient Earthly exposure.

"You made gold out of straw more times then we care to count, for you are all alchemists. If you are not getting what you desire at this moment in time, then you must access a place in space and time that you once received it - and bring that feeling into your auric field. From that point, create."


And Stargazer Li brings it home: "This is a foundation-shaking time for busting up the calcified ways we've been operating and for learning to live in new ways!"

In what underworld assignment are you currently enrolled? What is it asking of you? Will you meet it with wonder, not fear, and request angelic (and human) assistance as needed? What we heal for ourselves we heal for the collective.

2020 asks us to sharpen our vision. To step away from the (smoke)screens, relax our retinas, and see with new eyes. Welcome to this place.

Here are four under 280-character posts. Select one, copy and paste:

(1) 2020 asks us to sharpen our vision. To step away from the (smoke)screens, relax our retinas, and see with new eyes. Welcome to this place.
http://www.liveyourlight.com/WhatShines.html via @Amara_Rose

(2) In what underworld assignment are you currently enrolled? Will you meet it with wonder, not fear? What we heal for ourselves we heal for the collective.
http://www.liveyourlight.com/WhatShines.html via @LiveYourLight

(3) Our current eclipse series culminates with a full moon lunar eclipse featuring Saturn (form) and Pluto (transformation) together on January 12, 2020.
http://www.liveyourlight.com/WhatShines.html by @Amara_Rose

(4) "Our relationship with time and perspective will feel comfortable and scary, understandable and confusing, and like home but very foreign." - Aluna Joy
http://www.liveyourlight.com/WhatShines.html by @LiveYourLight

Thank you! MWAH

Shine On