Want to Tweet this newsletter? Click to share with your Twitter community!


** Special Companion Feature for this Issue **

"The dark night of the soul comes just
before revelation. When everything is
lost, and all seems darkness, then
comes the new life and all that is needed."

~ Joseph Campbell

The Tao of Now: Catalyst


We live in curious times. In thrall to a microscopic foe, we've been told social distancing will help keep us safe. Yet, paradoxically, when distancing is a requirement rather than a choice, we reach out - not only via our current definition of "social", but offline and real, offering up song and sustenance from backyards and balconies, highly creative humor - and displaying the kind of kindness and support that seems to kick in big-time during an emerge-and-see, such as clapping for healthcare workers at a designated time.

We're diving deep into separation to re-member it is illusion: We are One.

This coronavirus is a messenger, heralding "a spiritual initiation of the highest order."


Opening the Crown

As we hit pause in a domino effect, Peace Ambassador Jasmuheen reminds that "corona" means "crown", and the illness encircling the globe comes bearing gifts for us: a global expansion of care, compassion, community.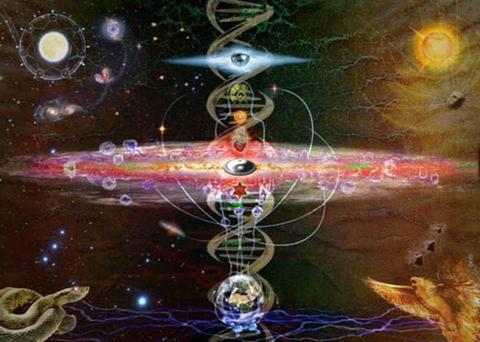 "When a country is operating with these three frequencies: community, compassion, conscious awareness, that all leads to self care and care of each other. It puts us on a charted course, like a tractor beam, to lock into the hologram called true unity consciousness, the unified field, the Mothership," she explains.

"This is a major choice point for us on Earth: are we ready to lock into the highest field of potential? To begin to live as one people, in harmony, on one planet? This is one of the gifts now. We have the opportunity of cooperation. We have the opportunity of sharing. And we have the opportunity of coming together and operating for the highest good of all: not just for a country, but for the whole world.

"Independent of presidents and prime ministers and people in positions of leadership, the people are taking their power."


Inviting In A New Frequency

Another message coming in now has to do with frequency, says Jasmuheen. "Frequency holding [is] a total conscious awareness of the impact of our behavior and our frequency on the fields around us." It's another initiatory opportunity: our ability to stabilize in the field of our choice.




Hearing this raised my resonance a thousand-fold, as I recalled my own dark night of the soul. In this liminal corridor between the worlds, I was physically ill yet in a place of profound awakening, and began radiating more joy than I'd ever known, as I re-membered who I am and my purpose here on Earth.

Family and friends observing my unfolding were baffled: you're ill and in pain, they said, how can you be happy? But I was scrubbing away the detritus of years of cultural conditioning, shining anew with inner truth. There is a rightness, a sanctity, to such awareness that cannot be denied, and from this heightened state of consciousness, joy bubbles up. Anyone who has experienced a spiritual awakening knows whereof I speak.

Now it's being asked of us all, en masse. There have been multiple moments presaging our communal call. For instance:

When the Indonesian tsunami struck at the close of 2004, an eyewitness at Ground Zero expressed how this watershed event was helping people shift from scarred and scared to sacred, from density to destiny, from being exclusive to becoming inclusive. He wrote, "It is going to be an arduous task...but when we are through, the Spirit of the entire human race will have become INVINCIBLE.

"Maybe we will never really understand the reason behind all this. But we need to pick up our pieces and rebuild our lives. And while rebuilding, we should make peace our foundation, strength our pillars, virtue our brick and mortar and love our doors to invite our fellow beings into our heart. The more peace and harmony we invite into our lives, the more joy and happiness we will see in our world."


People, Who Need People...

Modern Elder Academy founder and author Chip Conley speaks of replacing "I" with "We", so "Illness" becomes "WEllness". Social distancing morphs into social well-being.




And as San Francisco's Director of Health averred, "The virus needs people to spread." I hear these words as the obverse of his intended meaning: the key to any shift is people. The virus, in the sense Jasmuheen and other meta-visionaries perceive its purpose, needs people to spread the love, the care, the compassion that creates community: from I to We.

Soul astrologer Isaac George writes: "The old, outworn Industrial Age is coughing and sputtering to a collapse of its own making. And, we're just at the cusp of this process... Whatever you engage with becomes part of you. Conversely, what you choose to not engage with cannot influence or control you. So it is in our own best interest and for the good of all that we do not allow the world's craziness to become our own. Nor can we afford to become despondent or complacent or bury our heads in the sand.

"There is a spark of the Divine that lives inside us, and which can always help once we surrender our egoic pride. We are designed as co-creators, original innovators, and like the wind and stars, we go ever on, and on, and on.

"Never ever give up. We are magical and made to rise again and again."


Dancing Out of Duality As Players for the Planet

For many years, I've described how these transformational times herald a global birth process. Gaia is helping us elevate to where we're growing. It's arduous and messy and sometimes can feel like the end of the world. But just as we didn't fall off the edge of the Earth on December 31, 2012 (remember the fear around that "end date"?), this latest crisis is an opportunity for growth rather than fear. As I wrote in The Sky Is Falling - NOT! The Truth About 2012:

"We're in the midst of an extraordinary evolution in consciousness. Now, humanity has reached what might be termed an 'uncritical mass' of awakened souls, who are helping to guide the shift that's taking place worldwide.


"Thus, what one might interpret as catastrophic - earthquakes, floods, hurricanes, etc. - is actually Nature's way of cleansing and clearing in preparation for the new, much as many of us are coping with headaches, muscle and joint pain, sleep issues, digestive disturbances, and a host of other weird physical, emotional and mental changes that are part of what a third dimensional human undergoes as we expand into beings of Light. Because that's precisely what is happening.

"We're moving from water-based to Light-based bodies. It's huge, exciting, scary, and real - and it's happening to everybody, although at different times and in different ways. Imagine how the first amphibious creature must have felt when it crawled onto land and realized it could live in two environments. In essence, that's where we are now.

"So there's no need to panic. It isn't the end of the world, just the end of a World Age, or time cycle. We're becoming galactic beings of Light, stepping into our global greatness in a whole new way. Many sages throughout time have prophesied this dawning Aquarian Age as ushering in a golden era of peace. We've voted for this as a collective, and are now emerging into the new. Let's rejoice, and help our fellow travelers to adapt."

We're all in this together - apart, for now, yet ever more unified as a collective. In my computer's thesaurus, the second definition of "catalyst" is "stimulus to change." As the entire planet goes viral IRL, it's a global wake-up call to uplevel humanity. Care, compassion, community.

The world will never be the same. All rise!

Here are four under 280-character posts. Select one, copy and paste:

(1) We're all in this together - apart, for now, yet ever more unified as a collective.
http://www.liveyourlight.com/WhatShines.html via @Amara_Rose

(2) As the entire planet goes viral IRL, it's a global wake-up call to uplevel humanity. Care, compassion, community. All rise!
http://www.liveyourlight.com/WhatShines.html via @LiveYourLight

(3) "Independent of presidents and prime ministers and people in positions of leadership, the people are taking their power."
http://www.liveyourlight.com/WhatShines.html by @Amara_Rose

(4) We're diving deep into separation to re-member it *is* illusion: We are One. This coronavirus is a messenger.
http://www.liveyourlight.com/WhatShines.html by @LiveYourLight

Thank you! MWAH

Shine On